A website built on a CMS like WordPress can no doubt make it easy you for you to publish and manage your content. But having a WordPress site also comes with regular maintenance tasks meant to ensure your site runs smoothly. The big question is, do you want to juggle these tasks on your own?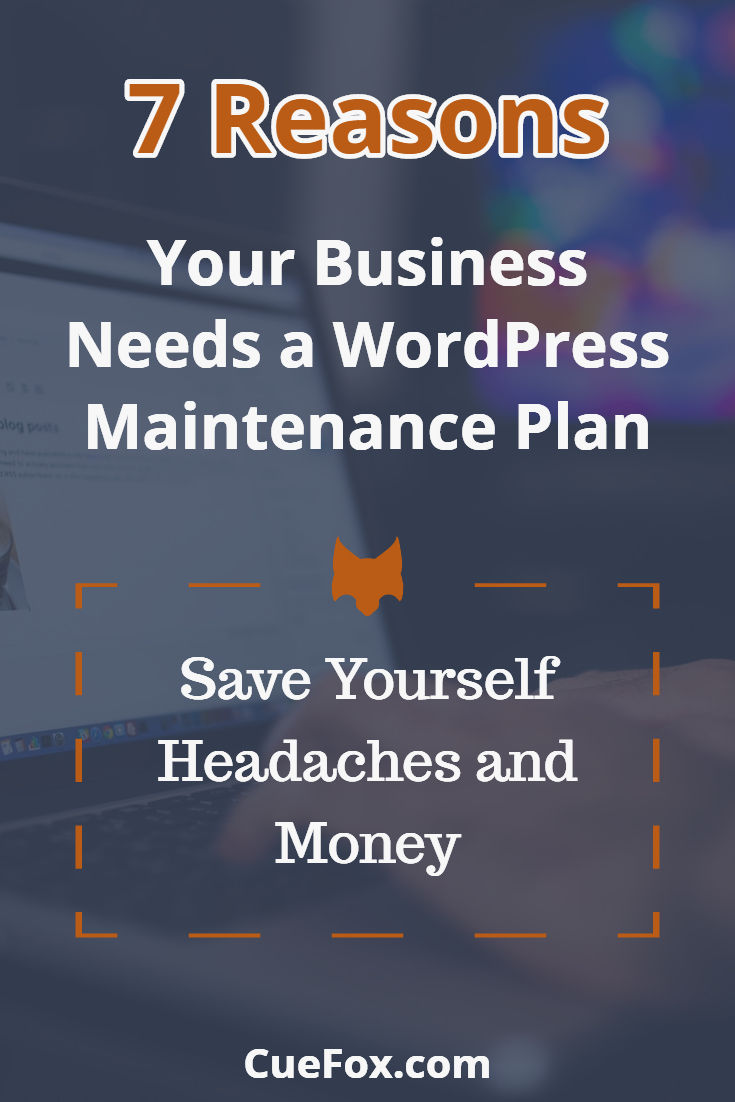 If you weren't already aware, one thing you need to know is that your website is an on-duty-24/7-multitasking digital employee.
Your site provides information and entertainment, collects emails, forwards contact inquiries, puts your visitors into sales funnels and perhaps even sells your products and services on auto-pilot.
Sometimes it's your ONLY employee, and usually, it's the most important employee for your entire business.
But your site is also a complex symphony of software. And like any software, it needs taking care of so it can keep giving you the performance, leads and sales you want.
As a business owner, it's important you allocate your time to do the things that'll give you the biggest return on your efforts.
But as a website owner, there are several recurring tasks you have to deal with. These can become frustrations that cost you hours of your time and loss of money from lost customers.
This is why business website owners should consider a WordPress maintenance plan that provides care for your site.
Let's cover some of the most common maintenance tasks and reasons your business needs a plan in place to deal with them.
1. You Need to Routinely Check That Your Website Is Working Properly for Your Visitors

This one is definitely important.
Your site could be showing glaring errors right on the homepage or elsewhere. (We most commonly see problems with images not loading correctly.)
Or your links, buttons, contact or signup forms might not be working as they should.
The real issue here is if you don't have someone to check your site (and be available to fix any issues quickly), you could lose potential leads and customers.
2. You Need to Make Sure Your WordPress Site Is Running Up-To-Date Software

By using WordPress, you gain access to a lot of nice themes and plugins you can add to your website for controlling the appearance and functionality of your site.
But WordPress itself, as well as most themes and plugins, are always under continuous development to be improved and maintain security.
This leads to frequent updates you have to log into your site and apply.
Most of the time updates go smoothly. Other times an update will cause your site to behave strangely or break into a blank screen, leaving you to figure out what happened.
And what's the biggest consequence of forgetting to update your site? The disaster of being hacked.
My team keeps all our clients' sites up-to-date and make sure to test that their sites are working and fix anything that might've gone wrong.
3. You Need to Make Sure You're Making Backups of Your Website

Backups are critical. For this reason, we've covered extensively how to backup a WordPress website.
Not only do you need to find a way to backup your site, but you also need to make sure:
your backups are stored away from your hosting server
your backups are not corrupted (which otherwise means they can't be used to restore your site)
you have at least two different backup systems running in case one fails
I make sure we solve this for our clients by spreading their website backups across 4 different systems, making routine tests, and storing the backups in two different Amazon S3 cloud locations.
4. You Need to Figure out How to Deal with Hosting and Downtime Problems

A big part of your website's success lies in finding a high-quality hosting provider.
Without one, you'll periodically run into problems with your website getting slow, compromised, or going offline.
Your hosting provider can also give you headaches by suspending your account without warning due to a sharp rise in your site's traffic, causing your site to use more resources than your plan allows.
My team wanted to avoid this problem entirely, so we created a fully-managed hosting solution exclusively for our clients.
This way we can provide a high-quality service and sort things out quickly.
5. You Need to Know How to Secure Your WordPress Website

Here's another critical thing you need to think about: web security.
We've covered the most basic steps before on how to protect your WordPress site.
But it's important you or someone else start implementing them so your site is shielded against the most common weaknesses and attacks.
Prevention is the best cure, and you'll find great value and peace of mind in having an "emergency response unit" standing by to help you IF your site does get hacked.
We provide that value and peace of mind to our clients. If something ever happens, we get it sorted out ASAP so you have little to worry about.
And chances are we'll spot the problems while you're soundly asleep.
6. You Need to Know How to Optimize Your Website's Speed

Now, I could be wrong, but I assume you don't like waiting around for a really slow-loading website. You'd rather go back to Google and try another result, right?
Well, the same goes for most of your visitors.
Huge and unoptimized images, an overwhelmed database, crappy hosting, poorly coded themes and plugins… these are just some of the things typically responsible for a sluggish website.
This is another headache you should consider having someone else with expertise take care of for you.
7. You Need to Know Where to Find WordPress Help When Things Go Wrong

So, technical issues on your website, updates, backups, hosting and downtime, security, website speed, and the list goes on…
Not only do you need to identify and effectively communicate what the problem is to someone else, but WHERE and WHO do you even go to for help in the first place?
Sometimes you can ring up your web developer and/or designer. Other times they'll be out of reach or weren't meant to be available for subsequent tasks or troubleshooting.
So, alternatively, you have to rely on 3rd party customer support help desks, online forums, blogs, pay-per-ticket troubleshooting agencies, etc.
Again, potentially hours of your time wasted.
With an ongoing plan that ensures your WordPress site receives the care it needs on a monthly basis, you pass all these tasks on to a team of experts who love handling them for you.
The main benefits you'll receive are:
you save a ton of time you can put toward growing your business;
you minimize website downtime and potential tech issues; and
you make more money as a result.
If you sell services or products through your website every day, just think about how badly your business is affected if your site malfunctions for an extended period.
Not a pretty picture, right?
All in all, I highly recommend you think about implementing a WordPress maintenance plan as a central part of your online business (and stress-relief) strategy.
How about you? Do you spend a lot of time just trying to make your WordPress site work for you, instead of working on growing your business?
Let us know in the comments below.
Know anyone who could benefit from this information? Then I'd appreciate you giving this article a share!